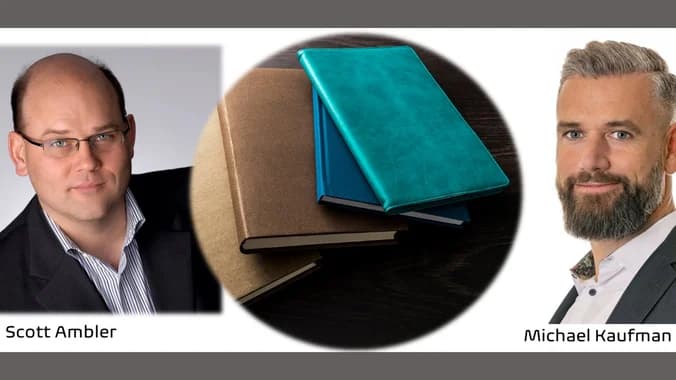 Join us at 6PM PDT on November 29th for the next exciting edition of the DevOps Vancouver Meetup, featuring Andre's DevOps nuggets and a discussion with DevOps book authors.
18:00 How to Bring Databases into DevOps
Data, the way that we process it and store it, is one of many important aspects of IT. Data is the lifeblood of our organizations, supporting real-time business processes and decision-making. For our DevOps strategy to be truly effective we must be able to safely and quickly evolve production databases, just as we safely and quickly evolve production code. Yet for many organizations their data sources prove to be less than trustworthy and their data-oriented development efforts little more than productivity sinkholes. We can, and must, do better.
This presentation begins with a collection of agile principles for data professionals and of data principles for agile developers - the first step in working together is to understand and appreciate the priorities and strengths of the people that we work with. Our focus is on a collection of practices - the "agile database techniques stack" - that enable development teams to easily and safely evolve and deploy databases. These techniques include vertical slicing, clean architecture and design, agile data modeling, database refactoring, database regression testing, continuous database integration, and configuration management. We also work through operational strategies required of production databases to support your DevOps strategy. If data sources aren't an explicit part of your DevOps strategy then you're not really doing DevOps, are you?
Bio
Scott Ambler is the Consulting Methodologist with Ambysoft Inc., leading the evolution of the Agile Data and Agile Modeling methods. Scott was the (co)-creator of PMI's Disciplined Agile (DA) tool kit and helps organizations around the world to improve their way of working (WoW) and ways of thinking (WoT). Scott is an international keynote speaker and the (co-)author of over 20 books, including Choose Your WoW!, Refactoring Databases, Agile Modeling, Agile Database Techniques, and The Object Primer 3rd Edition.
---
19:00 Accelerate DevOps - What I learned writing a book about GitHub
We are pleased to welcome Michael Kaufman to talk about his latest book. For him it will be 4AM in the morning, demonstrating his passion for DevOps and commitment to share his knowledge!
Here is Michael's session abstract in his own words:
When I was asked to write a book about GitHub, I first came up with an outline that had an introduction to DevOps with nearly 200 pages and then covered all GitHub Features in a logical order. "Nobody wants to read a 200-page introduction" was the phrase of my editor that made me completely rethink what I wanted to write about and how I should structure it.
In this session I want to share with you my learnings and explain why I chose the new structure for my book. I will explain how you can see the book as a practical step-by-step guide to a data-driven DevOps transformation.
Bio
Michael Kaufmann believes that developers and engineers can be happy and productive at work. He loves DevOps, GitHub, Azure, and modern work.
Microsoft has awarded him with the title Microsoft Regional Director (RD) and Microsoft Most Valuable Professional (MVP) - the latter in the category DevOps and GitHub.
Michael is also the founder and CEO of Xpirit Germany. Xpirit is a Microsoft Consulting firm that helps its customers become digital leaders by building Engineering Cultures and supporting them in their Cloud & DevOps transformation Xpirit is part of Xebia, a full-service digital consulting company working on a worldwide ambition.
Michael shares his knowledge in books, trainings, and as a frequent speaker at international conferences.