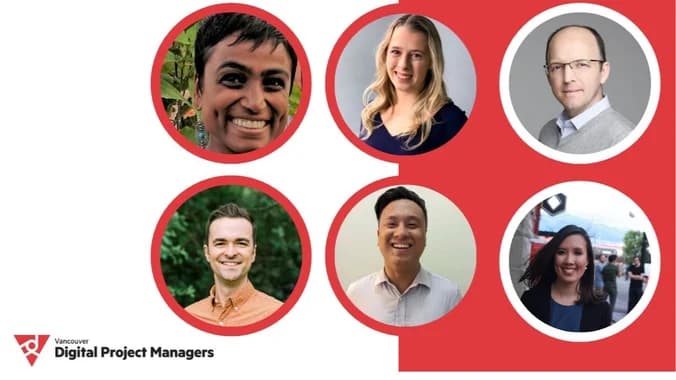 What separates the core value of a Project Manager compared to a Product Manager? What shared value can be unlocked by effective partnerships between these two disciplines? The answer to both of these questions might be more profound than you think!
The dilemma between Project Management and Product Management extends far beyond familiar titles. For our next event, VDPM has brought together industry minds from both Project Management and Product Management for a LIVE panel discussion around what makes each discipline tick; and more importantly, how we might leverage the cross-functional partnership to become trusted, strategic advisors to our stakeholders.
Finally we can reconvene, re-connect, and build a community of Vancouver Digital Project Managers stronger and more supportive for each other than ever before.
Not sure if the event is for you? YOU ARE INVITED! This event is for all digital project managers and their allies because we believe everyone does project management on some level. Especially those that are close allies in the workspace: product managers, program managers, coordinators, resource managers, etc. <3
What you'll get out of this event:
How most folks breakdown the distinction between product management and project management
Learn what a career path can look like for working professionals in both these disciplines here in Vancouver
Understand a bit more about the venn diagram of overlapping skills and accountabilities for project and product
New! Go to Happy Hour! (with fellow VDPMers).
SCHEDULE
AT WillowTree Offices (1.5 hrs)
5:15 - 5:30 pm: Doors Open, Networking
5:30 - 5:45 pm: Introductions & Housekeeping
5:45 - 615 pm: Panel Discussion
6:15 - 6:30 pm: Q&A
AT A Bar outside WillowTree
6:30 - 6:45 pm - We leave together as a big group and exit the office space. We'll make the reso and share the location leading up to the event. There will be some appies - feel free to stay for as little or as long as you want!
PANELISTS
Ashley Cho
Senior Product Manager, Telus Digital
Ashley is a project and product management professional. She worked on BC's largest healthcare project and helped launch projects for clients such as Volvo and Translink. Ashley made her transition into product management where she works with an incredible team that builds products for the post-transaction customer journey!he phopers
Annu Vanga
Product Manager, Motorola Solutions
Annu is a tenacious Product leader with a track record of bringing products from idea to launch. With experience as a product owner, product manager, program manager, analyst, and consultant at a range of companies including Lululemon, Starbucks, and Oracle, Annu brings a broad range of perspective and insight to the business of managing digital products.
Spencer Perry
Senior Product Manager, Microsoft
Spencer is a senior product manager at Microsoft, working primarily on Viva Engage and Yammer integrations with Outlook. His prior work experience is in financial services, technology, and media. He is passionate about product management, marketing, investing, and communications. Outside of work, he's a home chef, NFL/CFL fan, and living room DJ with hundreds of vinyl records.
Haydn Mellowship
Independent Consultant
Haydn has over 20 years of experience leading cross functional teams to analyze systems and processes and implement business and technical improvements. His cross-cultural experience comes from having worked in Canada, Brazil, South Africa, Hong Kong and UK and his experience with project management, systems integration, and portfolio management is drawn from a range of positions from Aptean, Kiaro, Standard Bank (UK), and several consulting companies.
Yael Rubinoff
Project Manager, Apply Digital
Yael has been a project manager at Apply Digital for the last four years delivering many complex digital products with start-ups and most recently with Kraft Heinz.
Brian Yan Muk
Product Manager, Apply Digital
Brian helps solve complex problems with digital solutions for top respected brands. Prior to Apply, Brian spent 10+ years at various B2B2C startups iterating and scaling mobile and web SaaS solutions in FinTech and MarTech that drove tangible revenue growth and time savings for enterprise clients and their millions of end users. In his spare time, he enjoys giving back to his community through education and mentorship.