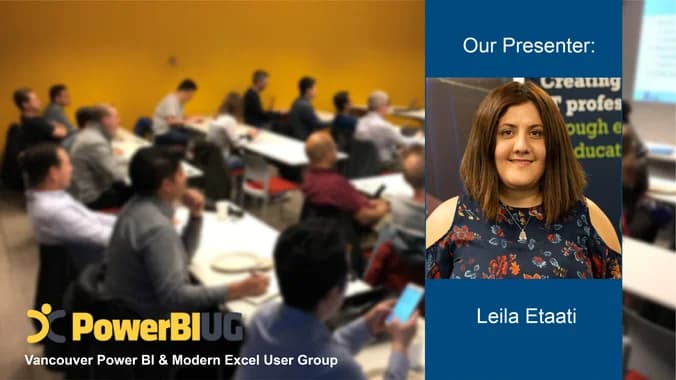 SESSION TRACK:
Power BI
SESSION OUTLINE:
We'll start off the evening with Matt Allington showing us some of the newest features in Power BI.
Next, Leila Etaati will present on using Charticulator to create custom visuals. Creating a custom visual for Power BI is a need that can be addressed with different approaches. One of the easiest ways to create custom visuals is using a No code platform named Charticulator. In this session, the audience gets familiar with basic charts like the scatter chart and bar chart. Creating some more complex charts like polar, pyramid, and ranking charts will also be presented.
SPEAKER PROFILE:
Dr. Leila Etaati is the first Microsoft AI MVP in New Zealand and Australia, and she is the co-founder and data scientist in RADACAD Company with over 100 clients around the world. She is an active blogger at RADACAD with over ten million visitors annually, and is the co-organizer of the Auckland Power BI User Group and three major conferences. Leila is a well-known international speaker at many conferences with over 200 sessions and many workshops. She was involved in many large-scale projects for big-sized companies.
Connect with Leila:
TENTATIVE AGENDA (subject to change, all times listed are in Pacific Time):
5:45pm Teams Meeting opens to attendees to begin joining
6:00pm-6:05pm Welcome and meeting overview
6:05pm-6:20pm What's New in Power BI
6:20pm-7:20pm Feature Presentation
7:20pm-7:25pm Meeting Wrap-up
REGISTRATION:
This meet-up will be hosted on Microsoft Teams, and will be recorded to share with others who were not able to attend live. You must RSVP for the event in order to access the Teams Meeting link.
JOINING THE EVENT:
Attendees can join the Teams Meeting starting at 5:45pm on the night of the event. The link will be visible only if you RSVP beforehand.
Once the event gets underway at 6:00pm, we ask that attendees make sure they are on MUTE, so background noise and distractions are minimized.
During the presentation, attendees can type questions and comments into the chat area, which will be monitored by the event hosts. There will be time for Q&A at the end, where attendees can un-mute their mic and even share their video to ask questions.
**NOTE: As mentioned above, this event will be recorded and shared online, so attendee information may be visible in the recording.